I do private shoots and live show photography to support a wide range of performer needs. I love all kinds of music genres and have shot a wide variety of groups. I've shot in venues ranging from small coffee shops to mid-sized theaters and outdoor festivals.
Your Team. When you hire me to shoot your band, I'm a part of your promotional team. I'll bring my creative skills to the table to make you look good. That's my #1 priority.
Your Message. What works for a metal band doesn't necessarily work for a jazz band. Every band is different and should have pictures that say who they are. So you talk, and I listen. I'll make suggestions based on what I hear, and we'll jointly come up with a solid plan for getting exactly what you want.
Your Choice. You shouldn't be stuck with just what a photographer thinks looks good. Of course I'll provide my professional expertise for your consideration, but in the end, if you work with me, you get to choose.
Your Budget. You shouldn't have to buy photos and licenses you don't need. Need pics for your social media accounts? Maybe a vinyl album cover? No problem. Want pics to use on merch? I can do that too. You name what you need, we'll work out the details.
Great Gear. I use a full frame DSLR with a variety of sharp wide-angle and zoom lenses. I bring the right lenses for the right venue and group size.
FLEXIBILITY * PASSION * TEAMWORK * PROFESSIONALISM * HONESTY * GENUINENESS * RESULTS
For live shows / events:
Convey the Experience. Pictures should put your fans right there, in the heart of your show. Knowing a band helps in capturing the nuances of its live performance, and that requires some homework on my part. I'll ask you a bit about your shows and watch any videos you have to learn about your performances. Oh, and tell me when to expect that stage dive. I'll be there for the capture!
The Only Flash is YOU. Flashes blind performers and ruin stage lighting. I shoot only flash-less in live shows!
NEW SERVICE: Social Media Support. I can provide your social media person with high quality shots for live tweeting and posting DURING shows. Please inquire!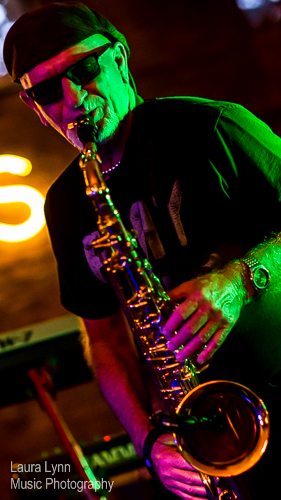 Saxophonist Mike Taylor
For private photo sessions:
Natural Looking "Poses". Nix the stiff poses. I'll help you get "non-posed", interesting shots that say what you want to say about yourself. High energy? Approachable? Fun? Serious? Intellectual? Your choice! My time is yours: we'll get as many different poses and shots as we can in the time slot.
Everyone Looks Great. Getting everyone in a large group to look good in a single picture can sometimes be challenging and time consuming. I use a rapid shoot method that increases the odds of getting the perfect shot. And if one person still doesn't look good, I can merge two photos to create a "best of" composite end photo, if that's what you want.
Lighting and Other Gear. For situations where additional, controlled lighting is needed, I have a fully portable light rig. My light gear includes continuous soft boxes and umbrella side lights with cool bulbs, so no blinding flashes and sweating under hot lights. I even have a portable backdrop rig and green screen for those those rare occasions when someone wants it.
Contact me for more information.